Login into the Administrator Panel at www.kellerconstruction.com/wp-admin
Click on Slider
You will see a link for each image currently in the slider.

Each one of these links represents an image in your slider.
For each new image added, you will see an additional link here.
Add the top of the slider page shown above, click the "Add New" button.
Type anything for the Title (i.e. Keller4 would be the next logical name based on the above).
In the categories panel on the right, make sure "Main Slideshow" is checked.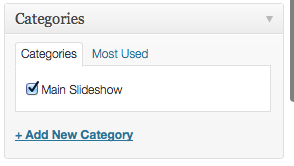 In the Featured Image Panel, click "Set Featured Image"
Choose an image from your media library or upload a new image to select.
Click "Set Featured image"
You should notice the Featured images Panel is now showing your image.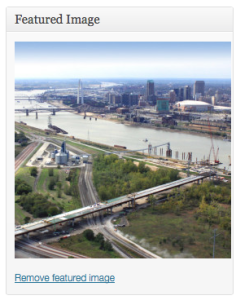 In the "Publish" panel, click the blue "Publish" button to make changes permanent.
Important Note:   Very Large image sizes will drastically reduce website performance.    Current image sizes are around 400K and have been edited to be about 1000 x 667 pixels.     You made need to resize any very large images with Photoshop or any photo editor before using on your site.      Note that some of your original images are 4320 x 3240 or larger which makes them about 15 MB.      Resizing them down to 1000 x 667 should get them to an appropriate size.    If files are still over 500K, use the "Save for Web" feature in photoshop to get them down below 500K.
---
← How do I add more pictures to the slider?